Insight:

see the results from our surveys which reveal how GTOs book group trips, their thoughts on planning into 2022, and more.
Group Leisure & Travel magazine
Read by key people who organise thousands of visits, every month
What is it? Group Leisure & Travel is the UK's number one magazine for people who organise group trips and holidays.
What's its frequency? The acclaimed A4 publication is produced monthly – 12 times per year, a third more frequency than our nearest competitor with only eight editions – providing much more coverage and targeted marketing opportunities for you.
What is its target market? Group Leisure & Travel is read by thousands of people, either online or via posted print copies, organising all types of days out, theatre trips, short breaks and holidays for groups of people in the UK, Europe and to exciting long haul destinations.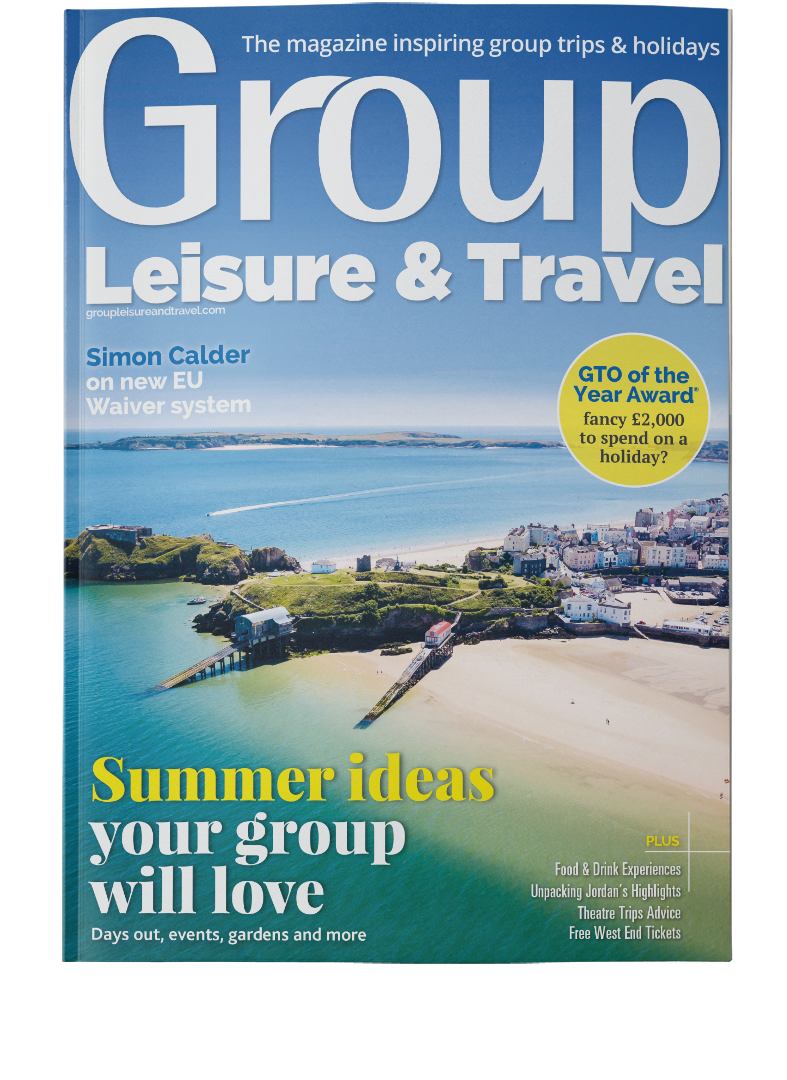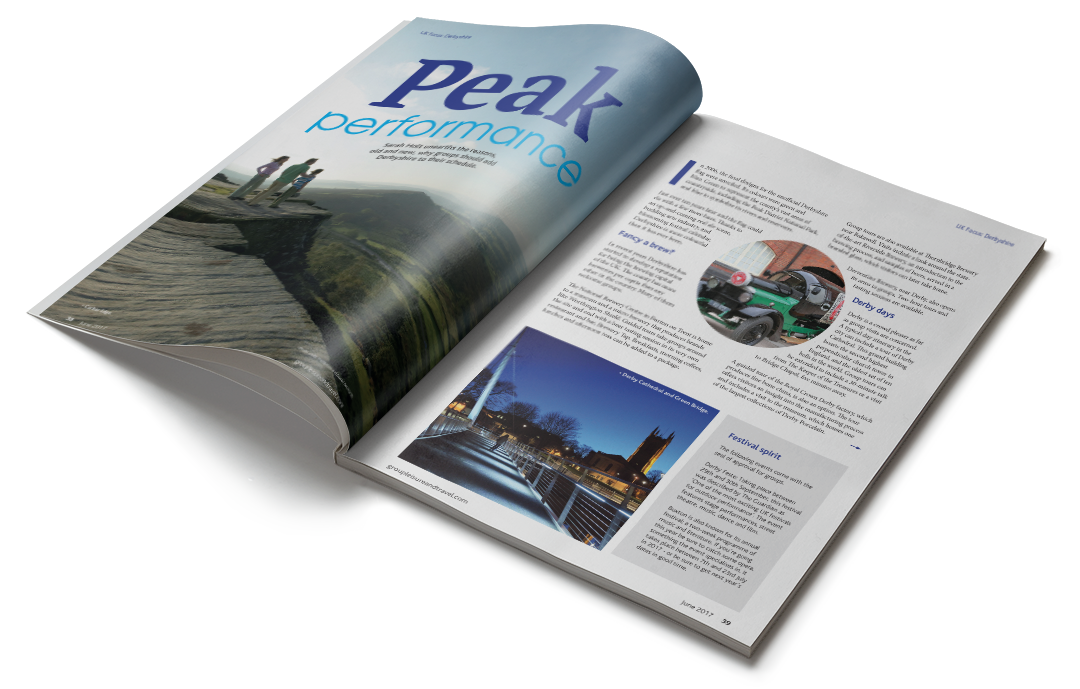 Who actually receives the magazine?
Group travel organisers (GTOs) working full time in this position, part-time or as volunteers in their spare time. We also reach all the major coach operators that offer coach tours and holidays.
Readers include GTOs from sports and social clubs and such organisations as John Lewis, Tesco, BT, major banks, the Post Office, NHS and the Public Services. We also target active leisure groups from societies and clubs such as the Conservative Club, Labour Clubs, University of the 3rd Age, Royal Legion, Women's Institute, PROBUS, Community Centres, Village Associations, Pensioner Groups, Active Retirement Associations and much more.
2021 reader survey reveals Group Leisure & Travel is the no.1 choice
87% of respondents to the 'Restarting Group Trips & Holidays' survey confirmed that Group Leisure & Travel magazine is where they get their ideas, advice and contacts in preference to other media, confirming GLT and its portfolio remains the most popular media choice amongst group travel organisers by a very substantial margin.
Group Leisure & Travel magazine

87%

87%

Group Leisure & Travel website

67%

67%

Group Leisure & Travel weekly e-newsletter

51%

51%

Coaching Venues & Excursions Guide

47%

47%

Who's Who in Group Leisure

72%

72%

Group Travel Organiser magazine

49%

49%

Group Travel Organiser website

12%

12%

Group Travel Grapevine e-newsletter (from GTO magazine)

22%

22%

Group Travel World magazine

13%

13%

Group Travel World website

1%

1%

Adding value to your advertising message in every way
As you would expect from the No.1 magazine in its field, and as part of our environmental commitment, we're the first to introduce compostable wrapping. That's right – Group Leisure & Travel is now delivered in a bio-degradable bag which can be thrown away with kitchen food waste! When you do business with us you can trust in us to be at the vanguard of production and delivery. Boost your green credentials and advertise with the best!
What is the impact from Group Leisure & Travel?
We are targeting that one individual who is responsible for organising travel and holidays for numbers ranging from single figures to thousands of people. GLT publisher, Rob Yandell commented: "We took 20 Group Leisure & Travel readers to Brussels and between them, they were responsible for over 25,000 people. When you consider that, you begin to understand the power of our magazine."
OUR GUARANTEE: Unlike some publications, the Group Leisure & Travel circulation is guaranteed to be posted to named recipients only. We also guarantee that no copies are delivered to organisations in bulk packages.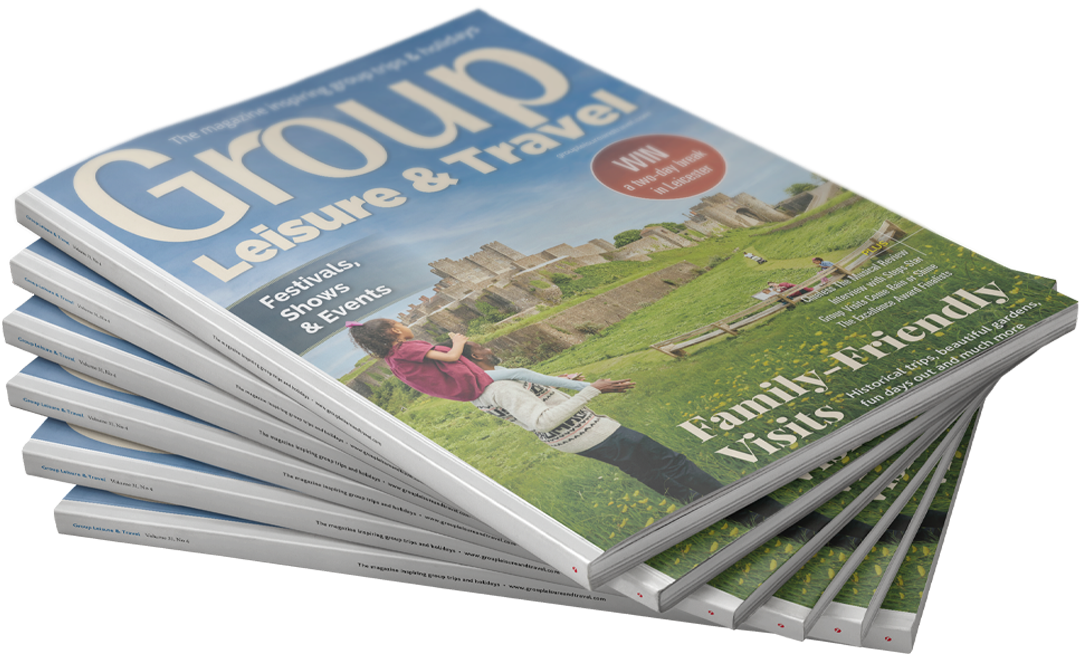 Group Leisure & Travel is also available to readers in digital format via the website
groupleisureandtravel.com/emag
Add a video, a soundtrack or use 'Page Zero' opposite the Group Leisure & Travel e-magazine front cover to promote your business.
What do our advertisers say?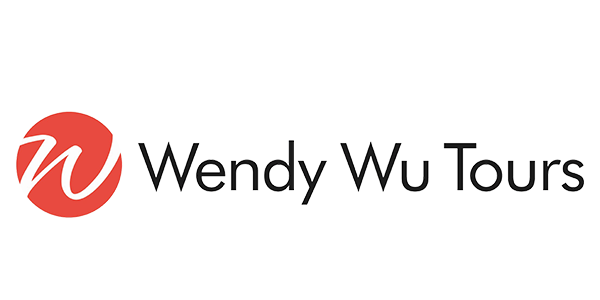 "I have personally been working with Group Leisure & Travel for the past 10 years. Group Leisure are really at the cutting edge for everything 'Group Travel'. The team always keep you fully up-dated with what and how they can help promote your business, and to the right people.
"I have just started a new chapter in my career with Wendy Wu Tours, as Head of Group Sales & Partnerships. I fully intend to work with the great team at Group Leisure to launch this new venture into the 'Groups World'.
Glen Thomas
Head of Group Sales & Partnerships – Wendy Wu Tours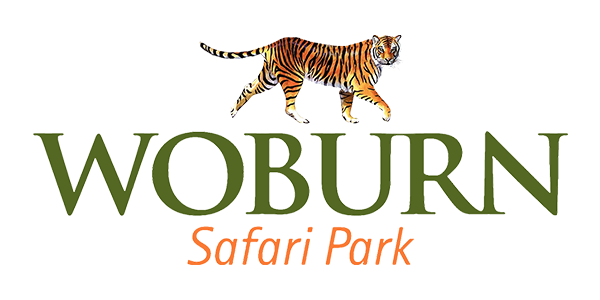 "Woburn Safari Park has been a regular user of Group Leisure & Travel magazine for many, many years, as well as being involved with other media opportunities in the portfolio. We value its reach and quality, ensuring our message to groups will be read by top group leaders looking for a great day out. Group business is very important to us and we value our longstanding relationship with both the magazine and the GTOs that read Group Leisure & Travel."
Abigail Crowley,
Leisure Marketing Manager – Woburn Safari Park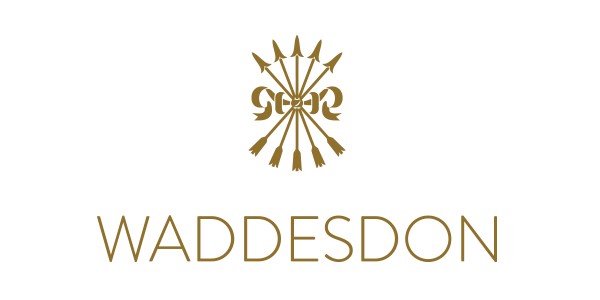 "In almost two decades of working with Group Leisure and Travel Magazine, I have always found the magazine and its events to be the most professional and well informed of the travel trade world. They are a great support to any new products and services we wish to launch and as a business have continued to adapt to the constant changes and challenges the industry has faced over the years.
Kim Hallett,
Head Travel Trade, Tourism & Filming – Waddesdon Manor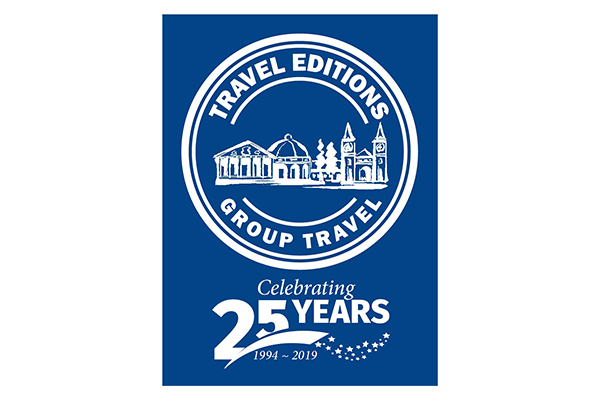 "As part of our overall strategy we feel it is important to have a regular presence in Group Leisure & Travel magazine. It is always easy to work with the Group Leisure & Travel team and agree our budget for the year ahead. They will often have new ideas and options we had not considered. It is not always about direct results in the groups market, but about building relationships and having a constant presence which we feel we achieve by featuring regularly. We are excited to see what the new website brings and what opportunities there may be to feature on it, once we have our new budget in place!"
Ellen Walker,
Business Development Manager – Travel Editions Group Ltd
"Our fleet of traditional style cruise ships offer a warm welcome to all types of groups. Specialists in no-fly cruising holidays, we offer exceptional value cruises together with group savings and benefits. As the magazine for group travel organisers, Group Leisure & Travel is the perfect media partner, both in print and digital, to ensure that Cruise & Maritime Voyages is forefront in the minds of GTOs who may be considering cruising holidays for their group.
"Like us, Group Leisure & Travel are part of an independent company striving at all times to deliver a highly professional and friendly service. The team at Group Leisure & Travel are a pleasure to work with. We are therefore particularly proud to have been voted 'Best Cruise Line' by readers of the magazine."
Mike Hall,
Head of Marketing – Cruise & Maritime Voyages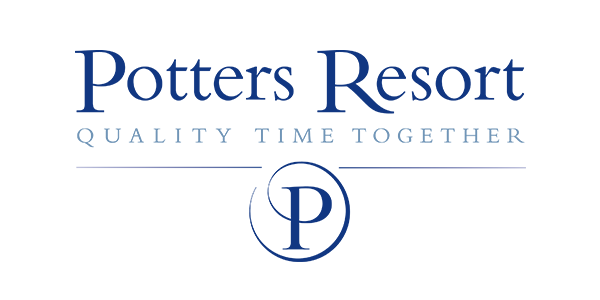 "Potters Resort have worked with Group Leisure & Travel for a number of years now; advertising in the Magazine and exhibiting at the Group Leisure & Travel Show. They have a great team who ensure everything about booking an advertisement or show is handled professionally and they are always willing to chat through various opportunities that may assist with promoting our Resort. All in all, a great magazine and a well organised Travel Show that we are already looking forward to in October."
Sallyanne Gooch,
Group & Commercial Sales Director – Potters Resort
Call it an advertorial, native advertising, or sponsored content, what we offer is a variety of ways to get your key messages across in a compelling and interesting way. Do something different and stand out from the crowd utilising our talented editorial and design teams.
Based on your brief, we write it and design it, you approve the final copy. If you prefer, you provide the copy, we then check it, put it into house style and show you the finished pages for your approval.
All options are included in our print and digital editions in an issue of your choice (depending on availability).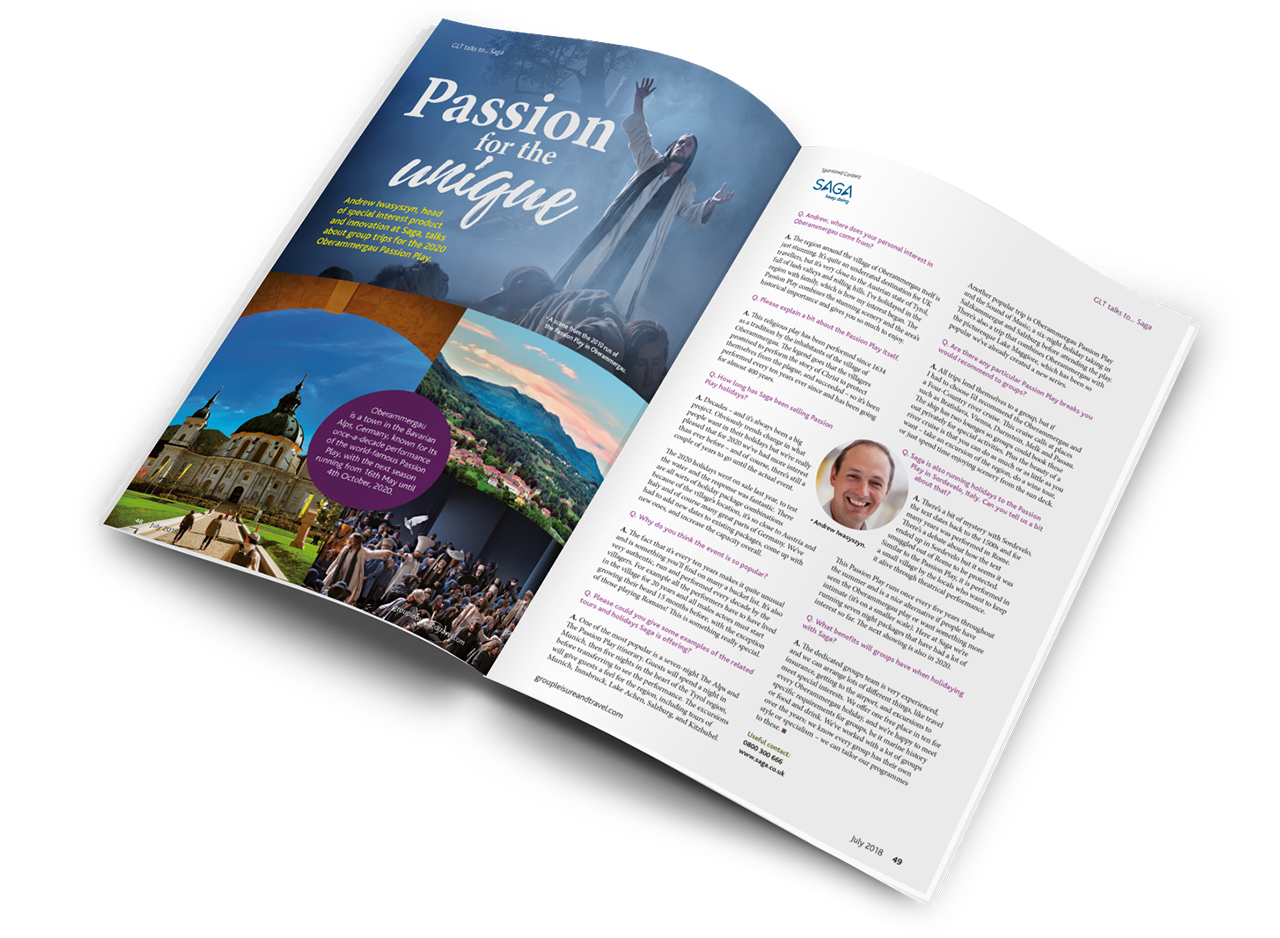 Interested in advertising?
Or call us on +44(0) 1908 613323